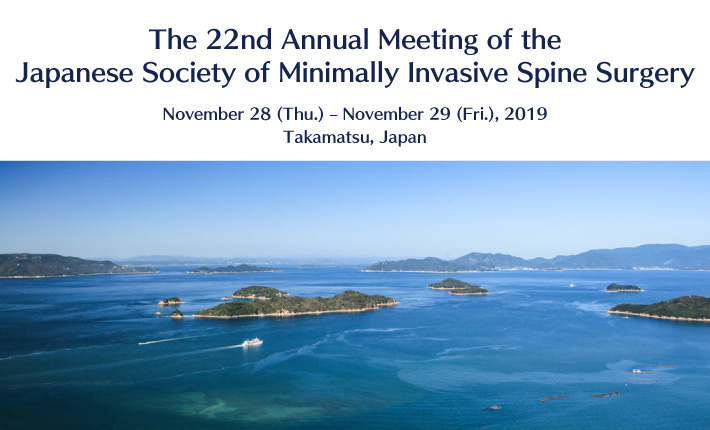 Welcome Message from the President of the 22nd JASMISS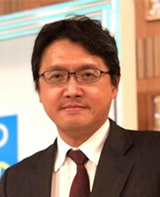 Koichi Sairyo, MD and PhD
Congress President of 22nd JASMISS
Professor and Chairman,
Department of Orthopedics,
Tokushima University,
Tokushima, Japan

This year, Tokushima University will host the 22nd Japanese Society of Minimally Invasive Spine Surgery (JASMISS) in Takamatsu City, November 28th and 29th. As a congress president, I would like to have some greeting to all of participants.
The JAMISS is a scientific, educational and all-Japan society. The annual meeting would cover the issues on any kinds of minimally invasive surgeries such as endoscopic surgery, motion preservation, stabilization, innovative technologies, biologics as well as basic science related to the MISS.
The "THEME" of this meeting is "Determination: Leading the spine surgery".
To be an expert of the MISS, we need the strong "DETERMINATION". After overcoming the steep learning-curve, one can be a master of the MISS. To be the master and expert with highest skill and highest mind, one needs hard work and hard efforts; thus, I should stay that "Master of the minimally invasive spine surgery would be a master of the spine surgery".
During the meeting, we prepare invited lectures, leaders lectures, the determination lectures, the determination symposium and special lectures.
The venue is Takamatsu city, Kagawa prefecture in Shikoku Island where there is a direct access with airplane from Tokyo, and Asian countries. Please attend this meeting and enjoy fruitful scientific discussion on MISS and special food in the Shikoku Island.
See you soon.
Overview
THEME

Determination: Leading the spine surgery

Venue

SUNPORT HALL TAKAMATSU
2-1 Sunport, Takamatsu-shi, Kagawa, 760-0019, Japan
https://www.sunport-hall.jp/en/facilities/

Access

From Takamatsu Airport: Approx.40 minutes by Airport Limousine Bus
From JR Takamatsu Station: 3-minute walk
https://www.sunport-hall.jp/en/access/

Key Dates

Abstract Submission deadline: July 31 (wed.), 2019
Notification of abstract acceptance: End of August 2019.

Registration

Only on-site registration is available.

Language

Both Japanese and English

Dress Code

Smart casual or Business Casual

Important Facts

Climate:
The average temperature in November in Takamatsu is around 17°/8°
Currency:
The currency used in Takamatsu and in the rest of Japan is the Japanese Yen (JPY).
Electricity:
The electrical power supply in Japan is 100V, 50Hz/60Hz
Tax:
Japan has 8% or 10% rate of Value Added tax. However, you can get VAT refunds when you leave the country, if you are a resident from outside the Japan.
Telephone:
From outside Japan, add 81 to the local number.
Tipping:
Tipping in Japan is not mandatory. It could be said that, tipping is not a common practice in Japan. In many cases, maybe most, tips may be politely refused.
Abstract Submission
Call for Abstract:
The Organizing and Scientific Committee of the 22nd JASMISS invite everyone interested to actively contribute to the programme by presenting their research to an audience of medical experts through Oral and Poster Presentations.
Abstracts of the papers must be submitted ONLY e-mail attached word file.
Important Dates:
Abstract Submission Deadline: July 31 (wed.), 2019.
Notification of Acceptance/Rejection of Abstracts: End of August, 2019.
Guidelines for the preparation and submission of the abstracts:
PREPARATION
Language:

All abstracts should be submitted and presented in English language.

Corresponding Author:

The abstract submission form should be completed by the author who will be responsible for all correspondence (correct email is really important).

Words:

The text body of the abstract should not exceed 400 words.

Title:

The abstract title should be brief and accurate. It must not exceed the limit of 25 words. Please do not use abbreviations (except those commonly used).

Structure:

Abstracts must use the following structured format (include the thematics):
– Background
– Objectives (or Aim)
– Methods
– Results
– Conclusions

Graph:

No graph (table/diagram/picture) can be included in each abstract.
Notification of Acceptance / Rejection Letter:
The corresponding authors will be notified with reference to the approval or rejection of their submitted abstracts by email on End of August 2019.
Inquiry
The 22nd JASMISS Meeting Coordinator
DO CONVENTION INC.
5F, 2-23 Kandaawajicho, Chiyodaku, Tokyo 101-0063, JAPAN
TEL:+81-(0)3-5289-7717 | FAX:+81-(0)3-5289-8117 | E-mail: jasmiss2019-office@umin.ac.jp